Clever containers
For small spaces, courtyard patios or balconies, pots are great for fruit and vegetables like tomatoes, beans, lettuce, radishes, and carrots. Not only will you be growing productive crops to enjoy but having them in pots and containers will keep your garden design flexible. The ability to move the containers means you can redesign your garden in the drop of a hat, but still ensuring that your crops are getting the right sun, position, and shelter that they need.
Using portable containers allows you to utilise areas with tough growing conditions. For shaded corners, try loose-leaf lettuces including varieties such as 'Lollo Rosso' or fast-growing, spicy mizuna leaves. Radishes also grow well in shady areas and can be ready to harvest within a few weeks of sowing.
Naturally suited to dappled light, woodland fruits like white currants, redcurrants and blackcurrants or berries - such as blackberries and alpine strawberries - are also perfect for such positions. When growing ericaceous berries like blueberries and cranberries in containers, ensure a peat-free ericaceous compost like Peat Free Premium Azalea, Camellia & Rhododendron Ericaceous Compost is used to supply the necessary conditions for them to thrive. Blueberries need a container with plenty of room for the rootball. It's best to water with rainwater rather than tap water, which can be too alkaline for acid-loving plants.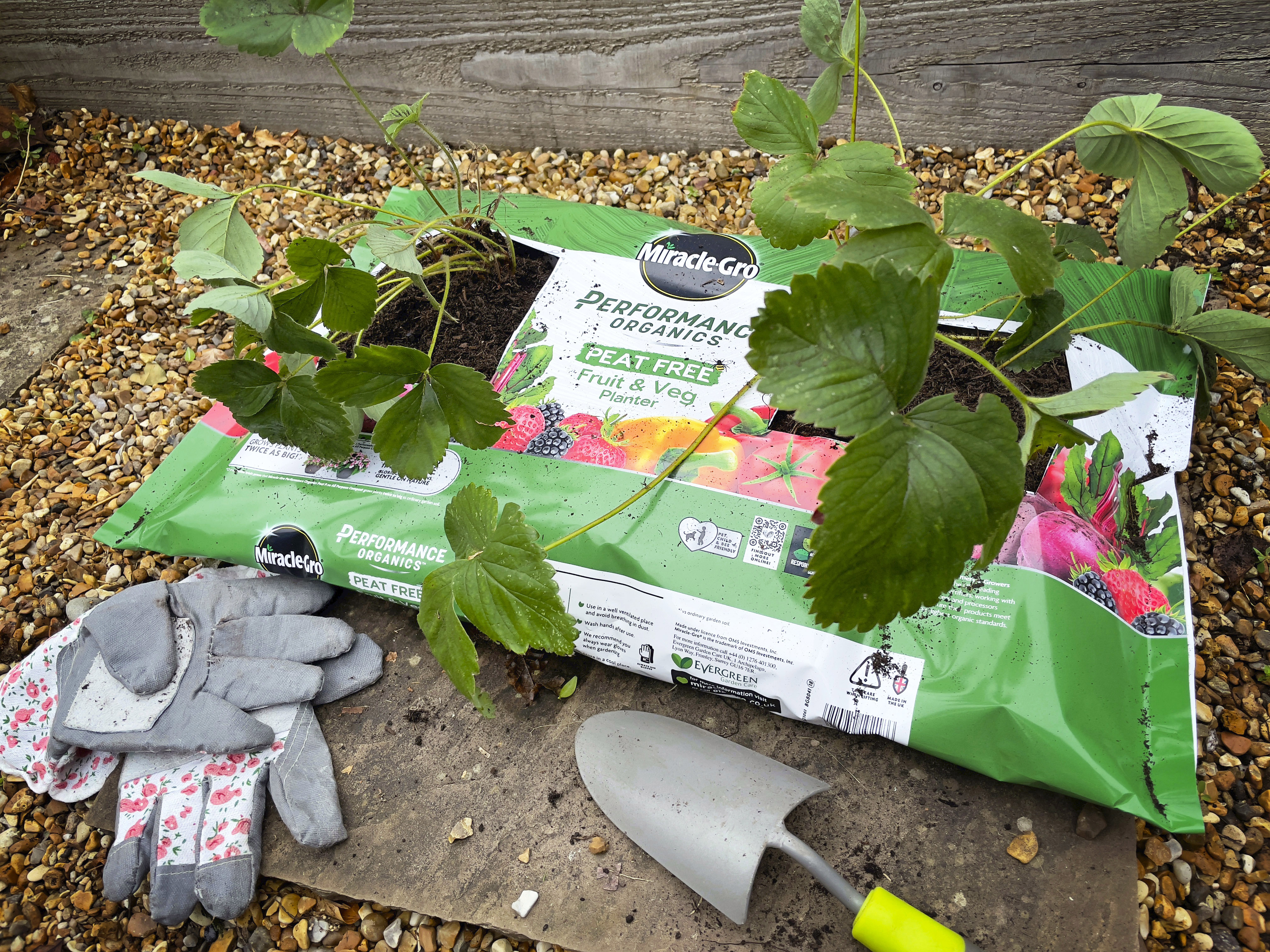 Growbags galore
Growbags like Performance Organics Peat Free Fruit & Veg Planter are well-suited to grow Tomatoes, Peppers, Chillies, Strawberries, Courgettes and Cucumbers. Simply use the dotted lines to create the planting pockets which will comfortably fit two tomato or pepper plants or one Courgette or cucumber because these appreciate more room to grow. Once the plants are firmed in place, water in well and feed with a liquid plant food weekly.
Lettuce is another easy win for growbag growing. Sow the seeds from March until September for harvests almost all year round. Bear in mind when sowing lettuce seeds in the summer that high soil temperatures can decrease germination. Therefore, a top tip is to sow the seeds in the evening, use cold water to add moisture, and ensure they're positioned in a partially shaded spot.
Fruity favourites
Make the most of wall space by using it to grow fruit. Espalier is a French technique which involves training the branches of fruit trees to be flat against a surface. Small trees bred this way can be bought from a garden centre to get you started.
They have so much to offer from stunning blossom in spring that is appreciated by pollinators and of course fruit in summer and autumn. Apples, pears, and cherries are popular for this method as they don't require much care, just occasional pruning and feeding. For fences, trellises, and arbours, utilise every vertical space in your small garden by not only growing ornamental climbers, but productive crops like climbing beans, peas and vine tomatoes. It's a win-win as they will give you delicious harvests whilst looking striking through the season.
If you've utilised all the wall space but still want to grow fruit, you don't need a huge garden to grow apples. Instead, there are a multitude of small and dwarf varieties to choose from that are perfect for tiny gardens and can be grown in containers too. Ensure you check the rootstock of the apple tree to find out the ultimate size it will grow to. Malus domestica 'Discovery' is a good choice for a sunny spot that has a compact growing habit.
Growing indoors, of course
Gardens are also utilised for seating, dining, and playing, so with a small garden you may have to make some adaptations. However, there's no need to compromise because crops can still be grown indoors to ensure there is still chance for fruitful harvests even with a small space. Chillies are one of the most popular plants to grow at home because they are an exotic, attractive, fiery-looking plant. Sow the seeds in peat-free fine potting compost and keep the seeds in a heated propagator or cover with a plastic bag on a sunny windowsill. Keep them between 18-25°C until they germinate. It can take between 3-4 weeks to see germination happen.
When seedlings appear, ventilate the propagator, but don't let the temperature drop too much at night. Use a normal fertiliser at about quarter strength – seaweed extract is good for them, which they can get by using 2 in 1 Nourish & Protect Seaweed Plant Food.
So, you don't even need a garden to grow plants, just a brightly lit windowsill is enough to start growing your own food. Using handy techniques to make the most of your space is a great way of growing your own.