We are delighted to announce that we are working with Dobbies Garden Centre and Veolia on a 'bring back' scheme for all compost bags for three months. In selected stores, you will see recycling bins promoting the initiative and we hope that as many customers as possible will participate.
Once the bags are collected, they will be sent to a specialist recycling plant where all the pellets produced will be made into garden furniture that will be donated to a Greenfingers children's hospice garden. Find out more about our work with Greenfingers here.
Jane Hartley, Evergreen Garden Care Sustainability Marketing Manager, says: "Evergreen is delighted to be working with Dobbies and their customers. Evidence suggests that consumers want to take the right action when it comes to recycling so our new Miracle-Gro Bring Back Compost Bags bins will create strong visibility in store to encourage people to recycle.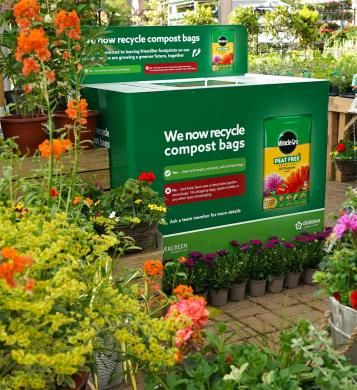 "We want to reduce the amount of single use plastic used within our business and compost bags are key to delivering this. We have already increased the amount of recycled content in our compost bags which now contain 80% recycled content. However, we have so much more to achieve, this is the first of a number of initiatives we are working on."
Marcus Eyles, Horticultural Director at Dobbies, said: "All that people have to do is bring any compost packaging, no matter what brand or where it was purchased, and return it to one of the recycling bins in our plant areas."
"It will then be collected by Veolia for recycling at Berry BPI Recycled Products before being used as part of the raw material blend to produce garden furniture becoming a valuable asset for hospices working with Greenfingers. It's a great win for the environment, for customers and for the community, and an important next stage of our #sustainabledobbies mission."
So if you are near to one of the Dobbies stores included in the trial which are: Woodcote Green, Altrincham, Morpeth, Cirencester, Milton Keynes, Atherstone, Keston, Brighton, Edinburgh and Milngavie, do pop in and do your bit for recycling!