Roundup® Gel Wand & Total Gel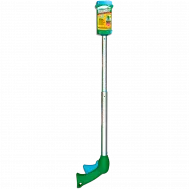 Roundup® Gel Wand & Total Gel
Roundup Gel Wand kill weeds that are hard to reach using the gel wand. It extends up to 86cm and is compatible with Total Gel, Path Gel and Tough Gel. 
Pack Sizes
Wand + Total Gel
HOW TO USE
Using just one hand, and at the click of a button, you can release the precise amount of gel needed to target the weeds without risk to other nearby plants.
The gel formulation sticks to the weed leaf and stays there, so there's no dripping or running off onto the soil or surrounding plants. 1 click per annual weed, 2 clicks per perennial weed.
WHEN TO APPLY
Roundup® is most effective when weeds are green and growing - and because Roundup® only works inside the weed and is inactive in the soil, this leaves the soil free for use and replanting.
WHERE TO USE
Ideal for treating weeds in difficult areas all around the garden, such as borders, lawns and vegetable patches.
CAUTIONS
Keep children and pets out of treated areas until the product has dried.  Do no re-use empty bottle. Contains glyphosate.
Use plant protection products safely. Always read the label and product information before use.
RECYCLING & HANDY HINTS
Avoid contact by spray and spray drift with cultivated plants and desired vegetation.  To avoid transfer to lawns and other desired vegetation do not walk into treated areas until the product has dried.
Health and Safety
Always read the pack label and product instructions carefully before use. For further information relating to product safety please review the product data safety sheet link below.