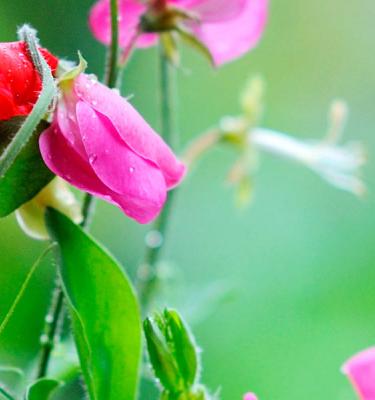 Your Monthly Planting Guide
Gardening in June
June is the beginning of summer and you should now start to see the results of all the work done earlier in the year. So it's time to really enjoy using your garden. But there are still some essential jobs that need carrying out if the summer is going to be a brilliant and colourful success. So don't rest completely on your laurels!
What to plant and do in June?
As the start of summer, June is a month of barbeques, socialising outside and enjoying your green space. Whether you want to know what fruit and vegetables to plant in June (and harvest), or the flowers to plant, choose your category below and check out our essential June growing and planting guide.
Vegetables
What vegetables to plant in June
As the summer months arrive in June, the promise of long days and warm weather means this is one of the busiest times in your vegetable garden. But put in the hard work now and you'll continue to see the benefits. If you haven't already, sow the following vegetables in June:
Sow indoors (windowsill, greenhouse or conservatory will all work well)
Sow outdoors directly into well-prepared soil (containers, beds and borders will all work, whether in a garden or on a balcony). If you've already sown these indoors and they've sprouted, it'll be time to move them outside providing the weather is good.
Climbing bean
Dwarf bean
Runner bean
Beetroot
Cabbage
Chinese cabbage
Carrot
Cauliflower
Chard
Cucumber
Lettuce
Peas
Radish
Rocket
Spring onion
Swede
Spinach
Sweetcorn
What vegetables to harvest in June
If you've already been busy in your vegetable garden and you have plenty of crops growing, you'll be in for a treat in June. The vegetables usually ready to harvest in June are:
Asparagus
Beetroot
Broccoli
Carrot
Cauliflower
Garlic
Lettuce
Peas
Potato
Radish
Rocket
Samphire
Spinach
Spring onion
Tomato
Turnip
Vegetable plant maintenance in June
Tie in sweet peas and other climbers regularly to ensure they don't flop and break their stems.
Sow fast-maturing vegetables, such as salads, every 10-14 days to ensure a continuous supply.
Continue tying in runner beans.
Monitor your pea supports and perform any maintenance where necessary.
Finish earthing up main crop potatoes.
Thinning, planting out and transplanting to final location is a key activity in your vegetable garden in June. Start with tender crops first such as lettuce.
If you are thinning carrots, always firm the soil around remaining plants. This will deter carrot root flies. Make sure you remove the thinning when you're finished as this can also attract carrot root flies.
Continue pinching out tips of marrows, cucumbers, and broad beans.
As we comeget towards the end of June, shallots planted in spring may begin to swell. You should scrape away the soil from the necks of the bulbs. This will make sure they are exposed to warmth and light.
When the weather becomes hot and dry your vegetables will need plenty of water. Give them a fine spray every few days. Try and give them a thorough soaking rather than a light spray every few daysy.
Use brassica collars when planting out cabbages. This will help prevent cabbage root fly.
Fruit
What fruit to plant in June
Whether bought from a shop or garden centre, or raised yourself, June is the perfect time to plant out your seedings. You can plant the following fruits directly into your garden in June:
Tomatoes
Cape gooseberries
Melons
Strawberries
What fruit to harvest in June
June is a great month to start picking and harvesting your strawberries. Pick and eat straight from the plant or have them with cream just in time for Wimbledon at the end of June.
You can harvest unripe gooseberries in June to make tarts, jams and sauces. Just pick around half, leaving the others to ripen and to be picked in July.
Fruit plant maintenance in June
Pick rhubarb until the end of the month, then stop to give plants time to build up their strength for next year.
Cover soft fruit with netting to protect them from bird damage.
June is a great time to begin to prune plum and cherry trees.
Place netting around your plants to protect developing fruits from birds and squirrels.
Water potted blueberries, cranberries and lingonberries with rainwater rather than tap water – the lime in tap water will reduce the acidity of the soil over time.
Be aware of shot hole on any fruit trees.
If any suckers appear around the base of fruit trees, pull them off.
For any fruit in containers, feed them with a high potash liquid feed to keep them healthy.
Thin pears, plums, peaches and apricots earlier in June, and apples at the end of the month.
Slug control is necessary now as slugs pose a threat to newly planted seedlings.
Watering your tomatoes regularly should prevent blossom end rot.
Lawns
Lawn maintenance in June
As the conditions are hot and dry in June, it is essential to do everything you can to look after your lawn.
Watering your lawn is crucial in June. When the weather is dry, you should give your lawn a good soaking once or twice a week. Try and avoid giving it a light daily sprinkling as this can cause the roots to grow shallow and be prone to drying out. Spiking will also help water penetrate the soil.
Try and water in the early morning or late evening as this ensures the water has a better chance of soaking in rather than evaporating.
Consider feeding and watering at the same time to encourage a stronger and deeper root system.
Mow your lawn about once a week with a grass height of 2.5cm (1 inch) – collect and compost all cuttings.
Avoid cutting too short as this will encourage weeds and moss.
When it is really hot, your lawn will become stressed. Reduce the amount of mowing and let the grass grow longer.
Feed your lawn with a liquid lawn food to keep it lush, green and healthy.
In hot dry weather, don't apply a feed – the grass has slowed its growing process and may become scorched.
If weeds are a problem in your lawn apply a selective lawn weedkiller, specially formulated to target your lawn weeds without harming the grass.
If both weeds and moss are a problem, opt for a suitable 4 in 1 lawn care product.
Ornamental plants
What flowers and bulbs to plant in June
So, what flowers to plant in June? June is the last chance to plant any annual flowers, including:
Zinnias
Clarkias
Marigolds
Mexican marigolds
Pheasant's eyes
Morning glory
Cosmos
Lavatera
It is also the perfect time to dig in your summer flowering bulbs, originally sown in April. These could include:
Begonias
Dahlias
Gladioli
Lilies
Peonies
Crocosmias
What flowers to prune in June
Deadhead and cut back oriental poppies once they have flowered. If you cut them close to ground level it will stimulate new foliage. A quick snip with secateurs is always effective. Feed, mulch and give them a good watering.
June is when you should cut back delphiniums. Do this right to the ground and remove the leaves as well as the flowers. Doing this now, may give you a second round of flowers in August and September.
Prune back sedums – cut back the stems by around a third to stop the stems flopping outwards.
Your hardy geraniums will likely have finished flowering by the end of June. When they have, cut them back to encourage new flowers and foliage.
Flower maintenance in June
Lift and divide overcrowded clumps of bulbs.
Plant up containers and hanging baskets with summer bedding and patio plants for a summer full of brilliant colour.
Check that hanging basket brackets will hold the weight of a fully watered basket.
Water container plants regularly - probably daily, depending on the weather.
Cut back the old leaves of spring-flowering perennials, such as Doronicum and Pulmonaria, for a fresh flush of new, healthy foliage.
Thin out drifts of hardy annuals if they're becoming overcrowded.
Plants and shrubs
What plants and shrubs to plant in June
If June is hot and there isn't much in the way of rainfall, planting new trees and shrubs is best avoided. It may be a better choice to wait until autumn – when the weather offers better conditions for planting.
What plants and shrubs to prune in June
There is plenty to do in the way of pruning of trees and shrubs in June. The following should keep you busy:
Ensure you trim evergreen hedges right down to the base to keep the growth dense.
If you have any wall-grown shrubs that have finished flowering, it's important to prune them now.
Prune early flowering shrubs – such as Ceanothus and Chaenomeles – to within 10cm (2-4in) of the old wood.
Look after the early flowering clematis in June. This won't need to be done every year – just when they begin to overcrowd their neighbours.
Deadhead lilacs, azaleas, and rhododendrons as they finish. This will keep them healthy and strong as well as tidying up your garden. Opt for a light pruning. You can give them a more severe pruning the following year in early spring.
Pinch out the tips of fuchsias to encourage further growth in summer.
Plant and shrub maintenance in June
Water any newly planted trees and shrubs with rainwater or recycled water.
Check for any tree ties that are digging into the bark. If they are, loosen them. Also check for those that may dig in once the trunk girth expands – loosen them now or make a note to do so later on.
Look out for damage on deciduous trees, including bacterial canker.
Check for signs of blight on box and holly trees.
Check for caterpillars, aphids and other fly pests. Implement effective control and treatment.
Herbs and spices
What herbs and spices to plant in June
Before the weather hots up too much for reliable germination, sow seeds of herbs in June including:
Coriander
Basil
Chervil
Fennel
Dill
Parsley
Rosemary
Sage
June is also the ideal time to transplant any container-grown herbs that have been either bought or propagated and raised.
Herb and spice plant maintenance in June
June is the ideal time to chop back herbs to remove tired old leaves. This should stimulate the growth of fresh new ones in their place. Do this to:
It is also essential to water herbs regularly during dry periods. There may be plenty of these in June.
The likes of coriander, dill, basil and wild rocket can be quick to bolt when overcrowded or in poor and dry soil. Keep your soil well fed and thin out where required.
Things to do this month
Make some time to sit and enjoy your garden.
Fire up the barbecue and enjoy some al fresco dining whenever the weather allows.
Plant out all your bedding and other half-hardy summer-flowering plants – as soon as the fear of frosts and cold nights has passed.
Turn the compost in your bin to keep it well aerated.
Water container plants regularly - probably daily, depending on the weather.
Check plants regularly to see if they need watering. If they do, give them a thorough soaking.
Feed wild birds daily with suitable bird food. They rely on us for food all year round.
Keep secateurs and hoe blades sharp, so they cut well. Always have a tool sharpener handy.
Remove algae and blanket weed from ponds to stop them taking over and choking them.
Keep bird baths topped up with water as birds need a daily supply of fresh water.
Clean tools with an oily rag after use to keep them clean, looking good and prevent rusting.
Check plants regularly for pests and diseases and deal with them before they get out of control.
What to do in your garden in June